Introduction
This tutorial is a brief introduction to the writing, compiling and use of procedural primitives with Maya. The C language code used by this tutorial implements a traditional RiProcedural interface - not the newer RiProcedural2 interface.
The C Code
From Cutter's Template menu choose Procedural Prim->GenSpheresProc.cpp.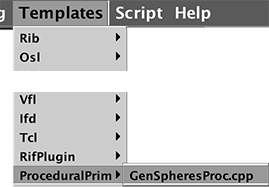 Figure 1
Save the file as StarterProc.cpp in the following location,
maya/rfm_scripts/proc_prims

Compiling and Building the ProcPrim
Use the keyboard shortcut Alt+e, Control+e or Apple+e. A Process Monitor window will open. Ensure the DSO has been successfully compiled and built.


Figure 2
For information on how to set up Cutter's compilation environment refer to C++ Development Environment.
Using the ProcPrim with Maya
From the RenderMan menu choose Archive->Create Procedural Node.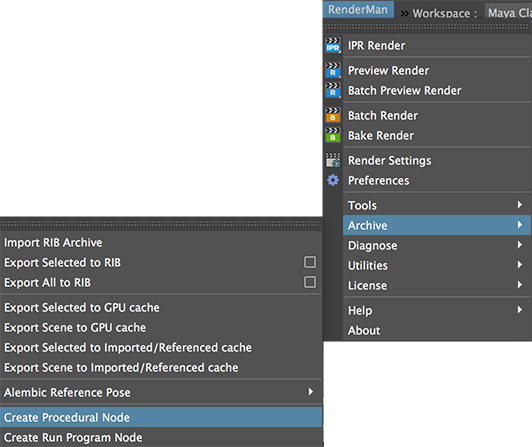 Figure 3
Use the directory browse button to locate the DSO. On Windows the DSO will be named StarterProc.dll.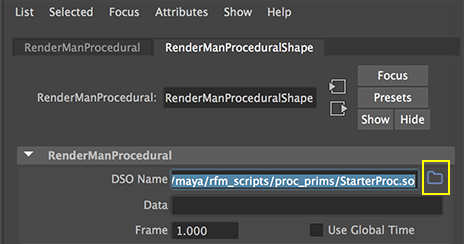 Figure 4
In the Data textfield enter the following text (make sure there is a space between the two numbers)
50 0.2
Render a frame and you should be rewarded with 50 spheres of 0.2 units in radius.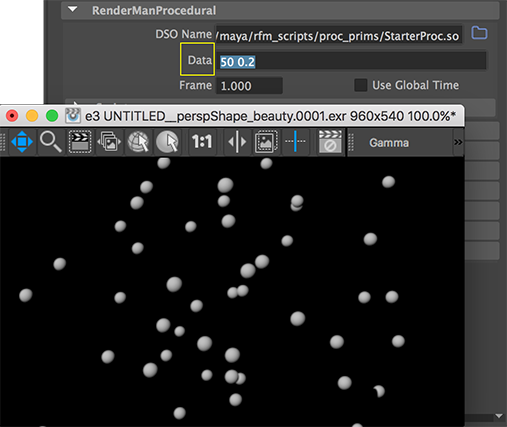 Figure 5