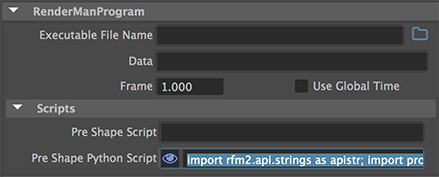 Figure 7
Use the browse button of the Executable File Name text field to assign the path to the "place_spheres.py" helper app python script.


Figure 8
When the scene is rendered the line of code in the Pre Shape Python Script text field will call the proc_data.py script that will, in turn, call the get_coordinates() procedure implemented by the shape_utils.py script. The PlaceSpheres() procedure of the proc_data.py script also querries the custom attributes and finally assigns text to to the RenderManProgramShape "data" textfield. The text is passed to the helper app.

As a result no matter how the vertices of the mesh object move, the spheres generated by the python helper app will be rendered in their correct locations.
How much text can be passed to a Helper App?
The motivation for implementing the technique of rendering spheres, or any geometry, at the vertices of a polymesh was to see how much text could be passed to a python helper app as well as to determine the efficiency of the technique. For the torus shown above here is a print-out of the "data" string consisting of 1200 coordinates. Python seems to handle the transfer of the data string very well even when passing 30,000 coordinates.

However, "Maya+Python+RenderMan" does get somewhat sluggish when dealing with a polymesh with 250,000 vertices - 750,000 coordinates!
0.03 1200 0.494 0.0 -0.078 0.476 0.0 -0.155 0.446 0.0 -0.227 0.405 0.0 -0.294 
0.354 0.0 -0.354 0.294 0.0 -0.405 0.227 0.0 -0.446 0.155 0.0 -0.476 0.078 0.0 
-0.494 0.0 0.0 -0.5 -0.078 0.0 -0.494 -0.155 0.0 -0.476 -0.227 0.0 -0.446 
-0.294 0.0 -0.405 -0.354 0.0 -0.354 -0.405 0.0 -0.294 -0.446 0.0 -0.227 -0.476 
0.0 -0.155 -0.494 0.0 -0.078 -0.5 0.0 -0.0 -0.494 0.0 0.078 -0.476 0.0 0.155 
-0.446 0.0 0.227 -0.405 0.0 0.294 -0.354 0.0 0.354 -0.294 0.0 0.405 -0.227 0.0 
0.446 -0.155 0.0 0.476 -0.078 0.0 0.494 -0.0 0.0 0.5 0.078 0.0 0.494 0.155 0.0 
0.476 0.227 0.0 0.446 0.294 0.0 0.405 0.354 0.0 0.354 0.405 0.0 0.294 0.446 0.0 
0.227 0.476 0.0 0.155 0.494 0.0 0.078 0.5 0.0 0.0 0.588 0.294 -0.093 0.566 
0.294 -0.184 0.531 0.294 -0.27 0.482 0.294 -0.35 0.421 0.294 -0.421 0.35 0.294 
-0.482 0.27 0.294 -0.531 0.184 0.294 -0.566 0.093 0.294 -0.588 0.0 0.294 -0.595 
-0.093 0.294 -0.588 -0.184 0.294 -0.566 -0.27 0.294 -0.531 -0.35 0.294 -0.482 
-0.421 0.294 -0.421 -0.482 0.294 -0.35 -0.531 0.294 -0.27 -0.566 0.294 -0.184 
-0.588 0.294 -0.093 -0.595 0.294 -0.0 -0.588 0.294 0.093 -0.566 0.294 0.184 
-0.531 0.294 0.27 -0.482 0.294 0.35 -0.421 0.294 0.421 -0.35 0.294 0.482 -0.27 
0.294 0.531 -0.184 0.294 0.566 -0.093 0.294 0.588 -0.0 0.294 0.595 0.093 0.294 
0.588 0.184 0.294 0.566 0.27 0.294 0.531 0.35 0.294 0.482 0.421 0.294 0.421 
0.482 0.294 0.35 0.531 0.294 0.27 0.566 0.294 0.184 0.588 0.294 0.093 0.595 
0.294 0.0 0.835 0.476 -0.132 0.804 0.476 -0.261 0.753 0.476 -0.384 0.684 0.476 
-0.497 0.598 0.476 -0.598 0.497 0.476 -0.684 0.384 0.476 -0.753 0.261 0.476 
-0.804 0.132 0.476 -0.835 0.0 0.476 -0.845 -0.132 0.476 -0.835 -0.261 0.476 
-0.804 -0.384 0.476 -0.753 -0.497 0.476 -0.684 -0.598 0.476 -0.598 -0.684 0.476 
-0.497 -0.753 0.476 -0.384 -0.804 0.476 -0.261 -0.835 0.476 -0.132 -0.845 0.476 
-0.0 -0.835 0.963 0.132 -0.804 0.963 0.261 -0.753 0.963 0.384 -0.684 0.963 
0.497 -0.598 0.963 0.598 -0.497 0.963 0.684 -0.384 0.476 0.753 -0.261 0.476 
0.804 -0.132 0.476 0.835 -0.0 0.476 0.845 0.132 0.476 0.835 0.261 0.476 0.804 
0.384 0.476 0.753 0.497 0.476 0.684 0.598 0.476 0.598 0.684 0.476 0.497 0.753 
0.476 0.384 0.804 0.476 0.261 0.835 0.476 0.132 0.845 0.476 0.0 1.448 0.787 
-0.181 1.098 0.476 -0.357 1.029 0.476 -0.524 0.934 0.476 -0.679 0.816 0.476 
-0.816 0.679 0.476 -0.934 0.524 0.476 -1.029 0.357 0.476 -1.098 0.181 0.476 
-1.14 0.0 0.476 -1.155 -0.181 0.476 -1.14 -0.357 0.476 -1.098 -0.524 0.476 
-1.029 -0.679 0.476 -0.934 -0.816 0.476 -0.816 -0.934 0.476 -0.679 -1.029 0.476 
-0.524 -1.098 0.476 -0.357 -1.14 0.963 -0.181 -1.155 0.963 -0.0 -1.14 0.963 
0.181 -1.098 0.963 0.357 -1.029 0.963 0.524 -0.934 0.963 0.679 -0.816 0.963 
0.816 -0.679 0.476 0.934 -0.524 0.476 1.029 -0.357 0.476 1.098 -0.181 0.476 
1.14 -0.0 0.476 1.155 0.181 0.476 1.14 0.357 0.476 1.098 0.524 0.476 1.029 
0.679 0.476 0.934 0.816 0.476 0.816 0.934 0.476 0.679 1.029 0.476 0.524 1.098 
0.476 0.357 1.14 0.476 0.181 1.155 0.476 0.0 1.695 0.605 -0.22 1.644 0.605 
-0.434 1.251 0.294 -0.638 1.136 0.294 -0.826 0.993 0.294 -0.993 0.826 0.294 
-1.136 0.638 0.294 -1.251 0.434 0.294 -1.336 0.22 0.294 -1.387 0.0 0.294 -1.405 
-0.22 0.294 -1.387 -0.434 0.294 -1.336 -0.638 0.294 -1.251 -0.826 0.294 -1.136 
-0.993 0.294 -0.993 -1.136 0.294 -0.826 -1.251 0.294 -0.638 -1.336 0.782 -0.434 
-1.387 0.782 -0.22 -1.405 0.782 -0.0 -1.387 0.782 0.22 -1.336 0.782 0.434 
-1.251 0.782 0.638 -1.136 0.294 0.826 -0.993 0.294 0.993 -0.826 0.294 1.136 
-0.638 0.294 1.251 -0.434 0.294 1.336 -0.22 0.294 1.387 -0.0 0.294 1.405 0.22 
0.294 1.387 0.434 0.294 1.336 0.638 0.294 1.251 0.826 0.294 1.136 0.993 0.294 
0.993 1.136 0.294 0.826 1.251 0.294 0.638 1.644 0.605 0.434 1.695 0.605 0.22 
1.713 0.605 0.0 1.79 0.311 -0.235 1.735 0.311 -0.464 1.645 0.311 -0.681 1.522 
0.311 -0.882 1.061 0.0 -1.061 0.882 0.0 -1.214 0.681 0.0 -1.337 0.464 0.0 
-1.427 0.235 0.0 -1.482 0.0 0.0 -1.5 -0.235 0.0 -1.482 -0.464 0.0 -1.427 -0.681 
0.0 -1.337 -0.882 0.0 -1.214 -1.061 0.0 -1.061 -1.214 0.0 -0.882 -1.337 0.488 
-0.681 -1.427 0.488 -0.464 -1.482 0.488 -0.235 -1.5 0.488 -0.0 -1.482 0.488 
0.235 -1.427 0.488 0.464 -1.337 0.0 0.681 -1.214 0.0 0.882 -1.061 0.0 1.061 
-0.882 0.0 1.214 -0.681 0.0 1.337 -0.464 0.0 1.427 -0.235 0.0 1.482 -0.0 0.0 
1.5 0.235 0.0 1.482 0.464 0.0 1.427 0.681 0.0 1.337 0.882 0.0 1.214 1.061 0.0 
1.061 1.214 0.0 0.882 1.337 0.0 0.681 1.735 0.311 0.464 1.79 0.311 0.235 1.808 
0.311 0.0 1.695 0.018 -0.22 1.644 0.018 -0.434 1.56 0.018 -0.638 1.444 0.018 
-0.826 1.301 0.018 -0.993 0.826 -0.294 -1.136 0.638 -0.294 -1.251 0.434 -0.294 
-1.336 0.22 -0.294 -1.387 0.0 -0.294 -1.405 -0.22 -0.294 -1.387 -0.434 -0.294 
-1.336 -0.638 -0.294 -1.251 -0.826 -0.294 -1.136 -0.993 -0.294 -0.993 -1.136 
-0.294 -0.826 -1.251 -0.294 -0.638 -1.336 0.194 -0.434 -1.387 0.194 -0.22 
-1.405 0.194 -0.0 -1.387 -0.294 0.22 -1.336 -0.294 0.434 -1.251 -0.294 0.638 
-1.136 -0.294 0.826 -0.993 -0.294 0.993 -0.826 -0.294 1.136 -0.638 -0.294 1.251 
-0.434 -0.294 1.336 -0.22 -0.294 1.387 -0.0 -0.294 1.405 0.22 -0.294 1.387 
0.434 -0.294 1.336 0.638 -0.294 1.251 0.826 -0.294 1.136 0.993 -0.294 0.993 
1.136 -0.294 0.826 1.251 -0.294 0.638 1.336 -0.294 0.434 1.695 0.018 0.22 1.713 
0.018 0.0 1.14 -0.476 -0.181 1.098 -0.476 -0.357 1.029 -0.476 -0.524 0.934 
-0.476 -0.679 0.816 -0.476 -0.816 0.679 -0.476 -0.934 0.524 -0.476 -1.029 0.357 
-0.476 -1.098 0.181 -0.476 -1.14 0.0 -0.476 -1.155 -0.181 -0.476 -1.14 -0.357 
-0.476 -1.098 -0.524 -0.476 -1.029 -0.679 -0.476 -0.934 -0.816 -0.476 -0.816 
-0.934 -0.476 -0.679 -1.029 -0.476 -0.524 -1.098 -0.476 -0.357 -1.14 -0.476 
-0.181 -1.155 -0.476 -0.0 -1.14 -0.476 0.181 -1.098 -0.476 0.357 -1.029 -0.476 
0.524 -0.934 -0.476 0.679 -0.816 -0.476 0.816 -0.679 -0.476 0.934 -0.524 -0.476 
1.029 -0.357 -0.476 1.098 -0.181 -0.476 1.14 -0.0 -0.476 1.155 0.181 -0.476 
1.14 0.357 -0.476 1.098 0.524 -0.476 1.029 0.679 -0.476 0.934 0.816 -0.476 
0.816 0.934 -0.476 0.679 1.029 -0.476 0.524 1.098 -0.476 0.357 1.14 -0.476 
0.181 1.155 -0.476 0.0 0.835 -0.476 -0.132 0.804 -0.476 -0.261 0.753 -0.476 
-0.384 0.684 -0.476 -0.497 0.598 -0.476 -0.598 0.497 -0.476 -0.684 0.384 -0.476 
-0.753 0.261 -0.476 -0.804 0.132 -0.476 -0.835 0.0 -0.476 -0.845 -0.132 -0.476 
-0.835 -0.261 -0.476 -0.804 -0.384 -0.476 -0.753 -0.497 -0.476 -0.684 -0.598 
-0.476 -0.598 -0.684 -0.476 -0.497 -0.753 -0.476 -0.384 -0.804 -0.476 -0.261 
-0.835 -0.476 -0.132 -0.845 -0.476 -0.0 -0.835 -0.476 0.132 -0.804 -0.476 0.261 
-0.753 -0.476 0.384 -0.684 -0.476 0.497 -0.598 -0.476 0.598 -0.497 -0.476 0.684 
-0.384 -0.476 0.753 -0.261 -0.476 0.804 -0.132 -0.476 0.835 -0.0 -0.476 0.845 
0.132 -0.476 0.835 0.261 -0.476 0.804 0.384 -0.476 0.753 0.497 -0.476 0.684 
0.598 -0.476 0.598 0.684 -0.476 0.497 0.753 -0.476 0.384 0.804 -0.476 0.261 
0.835 -0.476 0.132 0.845 -0.476 0.0 0.588 -0.294 -0.093 0.566 -0.294 -0.184 
0.531 -0.294 -0.27 0.482 -0.294 -0.35 0.421 -0.294 -0.421 0.35 -0.294 -0.482 
0.27 -0.294 -0.531 0.184 -0.294 -0.566 0.093 -0.294 -0.588 0.0 -0.294 -0.595 
-0.093 -0.294 -0.588 -0.184 -0.294 -0.566 -0.27 -0.294 -0.531 -0.35 -0.294 
-0.482 -0.421 -0.294 -0.421 -0.482 -0.294 -0.35 -0.531 -0.294 -0.27 -0.566 
-0.294 -0.184 -0.588 -0.294 -0.093 -0.595 -0.294 -0.0 -0.588 -0.294 0.093 
-0.566 -0.294 0.184 -0.531 -0.294 0.27 -0.482 -0.294 0.35 -0.421 -0.294 0.421 
-0.35 -0.294 0.482 -0.27 -0.294 0.531 -0.184 -0.294 0.566 -0.093 -0.294 0.588 
-0.0 -0.294 0.595 0.093 -0.294 0.588 0.184 -0.294 0.566 0.27 -0.294 0.531 0.35 
-0.294 0.482 0.421 -0.294 0.421 0.482 -0.294 0.35 0.531 -0.294 0.27 0.566 
-0.294 0.184 0.588 -0.294 0.093 0.595 -0.294 0.0