Introduction
This tutorial covers the basic issues of dealing with the RenderMan's curve primitive. Figure 1 shows four colored Curves, that have been rendered using different "curve types" but sharing identical control vertices (cv's).
    

b-spline


    bezier
    

catmull-rom


    

hermite
The cv's are colored white and gray connecting lines show the sequence of cv's.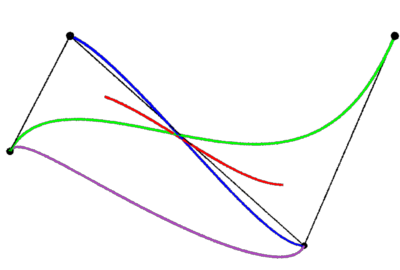 Figure 1
There is a clear difference between each of the curves. In particular, notice the green bezier curve is the only one to begin and end at the first and last cv. The RIB statements used to render the bezier curve are,
Basis

 "bezier" 3 "bezier" 3


Curves

 "cubic" [4] "nonperiodic" 
                   "P" [-0.75 0 0.5  -0.45 0 1  0.5 0 0  0.75 0 1]
                   "constantwidth" [0.005]
                   "Cs" [0 1 0   0 1 0]
The rib file used to render this image can be viewed here. Curves generated by Maya and mtor/Rfm the curve type is "b-spline" ie.
    Basis "b-spline" 1 "b-spline" 1
Refer to rendering Maya curves with prman.